Come see the screening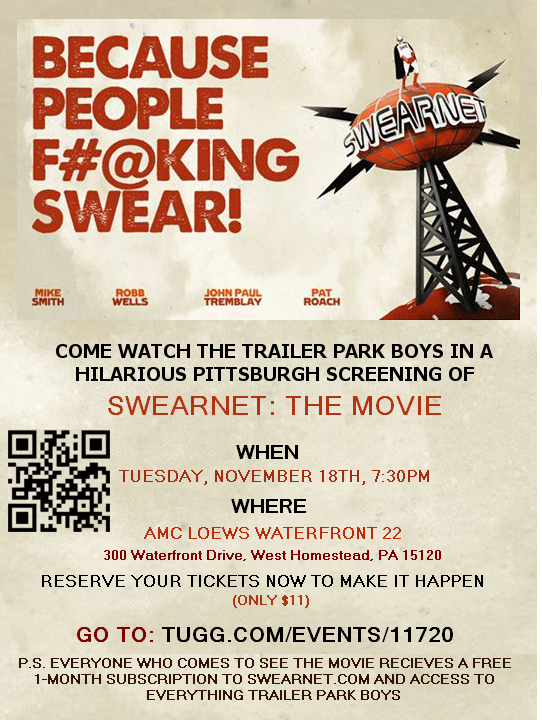 Tickets must be reserved through Tugg.com
Get them NOW! (before they are sold out)
A minimum of 73 tickets need to be reserved in order for this event to take place.
Official Red Band Trailer
After years of playing the Trailer Park Boys on TV, Robb Wells, John Paul Tremblay and Mike Smith decide it is time to stop fucking around and create their own network. A place where balls out comedy is the norm, drinking and drugs are not just accepted but encouraged, and people can fucking talk any way they want to fucking talk.
Freed from the constraints of regular TV networks and the dickheads that run them, the Boys can do whatever the fuck they want - news, weather, sports, cock signing, Swearaoke, and epic consumption of whiskey, weed and the occasional hallucinogen. But first, with the help of Pat Roach, Tom Green, and Carrot Top, they must honour the passing of JP's father, a local racing legend, by crossing the finish line in the East Coast Targa race one last time.
Along the way, their friendships are tested as Pat transforms into the foul-mouthed Swearman and Mike becomes a single-minded fuckwad, concerned only with finding fame and fortune in the online world. Will the comedy trio remain intact? Or will they sever all ties and go their separate fucking ways?
With 76 shits, 79 cocks and 935 fucks to describe the chaos that is Swearnet, we welcome you to find out.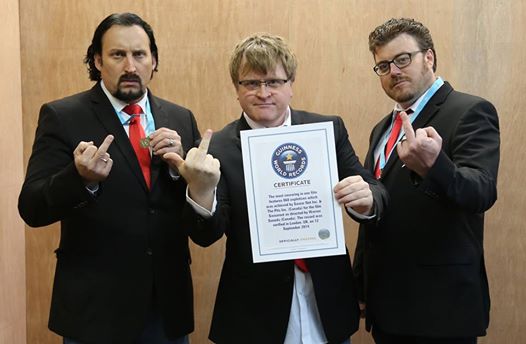 The boys made it into the fucking Guinness Book for most fucks in a movie...
Find out more info at Swearnet.com